For practitioners
ZAR sessions
Led by
Actors of Teatr ZAR
DATES:
February 2nd – 5th
March 2nd – 5th
March 23rd – 26th
April 13th – 16th
Wrocław, Poland
Location Studio Na Grobli
Working language: English/Polish
A series of four cycles of long weekend meetings, led by two or more of the performers/pedagogues of Teatr ZAR at a time. This formula allows us to delve deeper into the processes of different lines of creative work and experience how they resonate together.
Our goal:
These sessions are aimed to offer the opportunity to local performers living close by, or in neighbouring countries, to take part in our work and attend all four cycles. However, this work is equally available to anyone willing to travel from further away who would like to take part in the sessions.
Due to the cyclical nature of the program, one can choose to sign up to particular sessions led by pedagogues along your line of research or take part in the full journey.
Example of the program for one cycle:
Thursday 16:00 – 20:30
Friday 16:00 – 20:30
Saturday 9:00 – 19:00
Sunday 9:00 – 19:00
Complete application form  here
All the accepted participants will be asked for the advanced payment of 450 zl for full experience and 200 zl for solo-session.
Advanced payment is non-refundable.
Contact us by email at: zarworkshops@gmail.com
Participation fee
Early birds (till the end of December 2022):
Solo-session 600 zl
Whole journey 1800 zl
Full price:
Solo-session 700 zl
Whole journey 2100 zl
PL49109023980000000104716602
Santander Bank
STOWARZYSZENIE TEATR ZAR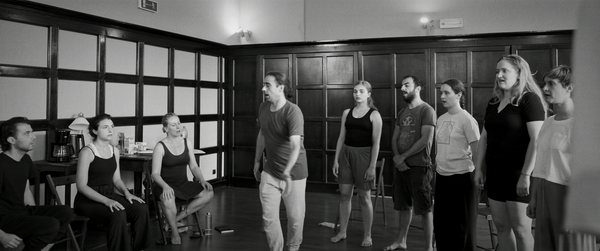 Cycles of work:
February 2nd – 5th
---
---
Applicants will be accepted on a first-come-first basis until the group for each workshop is full
March 2nd – 5th
---
---
Applicants will be accepted on a first-come-first basis until the group for each workshop is full
March 23rd – 26th
---
---
Applicants will be accepted on a first-come-first basis until the group for each workshop is full
April 13th – 16th
---
---
Applicants will be accepted on a first-come-first basis until the group for each workshop is full
Teatr Zar are expert trainers and teachers, drawing on years of extraordinary performances. Their vocal training is exceptional. Zar is consummate ensemble with extensive international practical experience. As someone who knows their practice well, I affirm that they always operate with the highest pedagogical standards, bringing out students' creativity in a tight and precise technical framework

Paul Allain,

Professor of Theatre and Performance, University of Kent
It is a unique experience that everyone in the work is completely invested in. I did not feel like a student or a participant but felt as if I was part of the company, which I am extremely grateful for

Kim Whatmore,

Particiapant of ZAR Intense 2022
I had never been in a workshop so well prepared, with such good treatment, such good pedagogy and with creative development in the form of improvisations with live music

Verónica Bermúdez Muñoz,

Particiapant of ZAR Intense 2022
Thank you for letting me feel at home in my body and in my voice. I can definitely say that with you I found a theatrical dimension really close to the theater I would like to practice every day of my life

Nicola Fadda,

Particiapant of ZAR Intense 2022
We all felt that something truly meaningful was happening. During every class. With every teacher. The masterclass had a 360-degree approach to the craft. Body and voice were treated as one

Ludovica Tagariello,

Particiapant of ZAR Intense 2022
Thank you for giving us a context of freedom, of protection. Thank you for making us direct witnesses of your own construction in this process

Natalia Martínez Sala,

Particiapant of ZAR Intense 2022
The intensity of each sessions was functional for a deep internalization of the work. In just ten days I filled an immense baggage of exercises and creative stimuli

Margherita Caviezel,

Particiapant of ZAR Intense 2022